This week, I was lucky enough to sit down with Impact Wrestling star Eddie Edwards, as he discussed Slammiversary (coming up on July 17th on Fite TV), his iconic feud with Sami Callihan, his dream opponent for Slammiversary, and how special it will be to see fans returning to Impact Wrestling.
Craig: So, my first question is: we are 9 days away from Slammiversary and the fans are back. What does that mean to have fans back in attendance after such a long time?
Eddie: You know, it's over 14 months at this point, it's hard to explain – I mean, I'll do my best, but it's like, you know, pro wrestling misses so much when we don't have fans there. I love having the fans there just because, you know, that interaction that you feel before the show starts: when the opening music hits, the opening video wall plays, and you can hear that crowd when you're walking around in the back – man, I'm getting chills now thinking about it!
Especially at an event, like, Slammiversary – these pay per views, there's a buzz anyway going into it for us backstage, and for the fans as well, but I'm speaking from the wrestler's standpoint, from us in the back. Earlier in the day you're walking around, and you can feel the buzz, you can feel that something's going to happen, that there's gonna be a special moment – and that's what we're trying to do, we're trying to go out there and create these special moments. When you're walking around and then you hear that music, man, there's nothing like that. When we go through that curtain and we hear that crowd – we're slapping hands and we're in the ring and they're cheering. Nothing competes with it man.
And that's, that's how we go out there: injured, beat up, you know. I've wrestled with a broken elbow, broken heel, broken face. Like the only way to do that is through this connection that you have with the fans. Somehow, things don't hurt quite as much. You can fight your way through, you can get up that one last time, get that extra bit of energy. That extra something that definitely adds to the building. I can't wait in case you can't tell!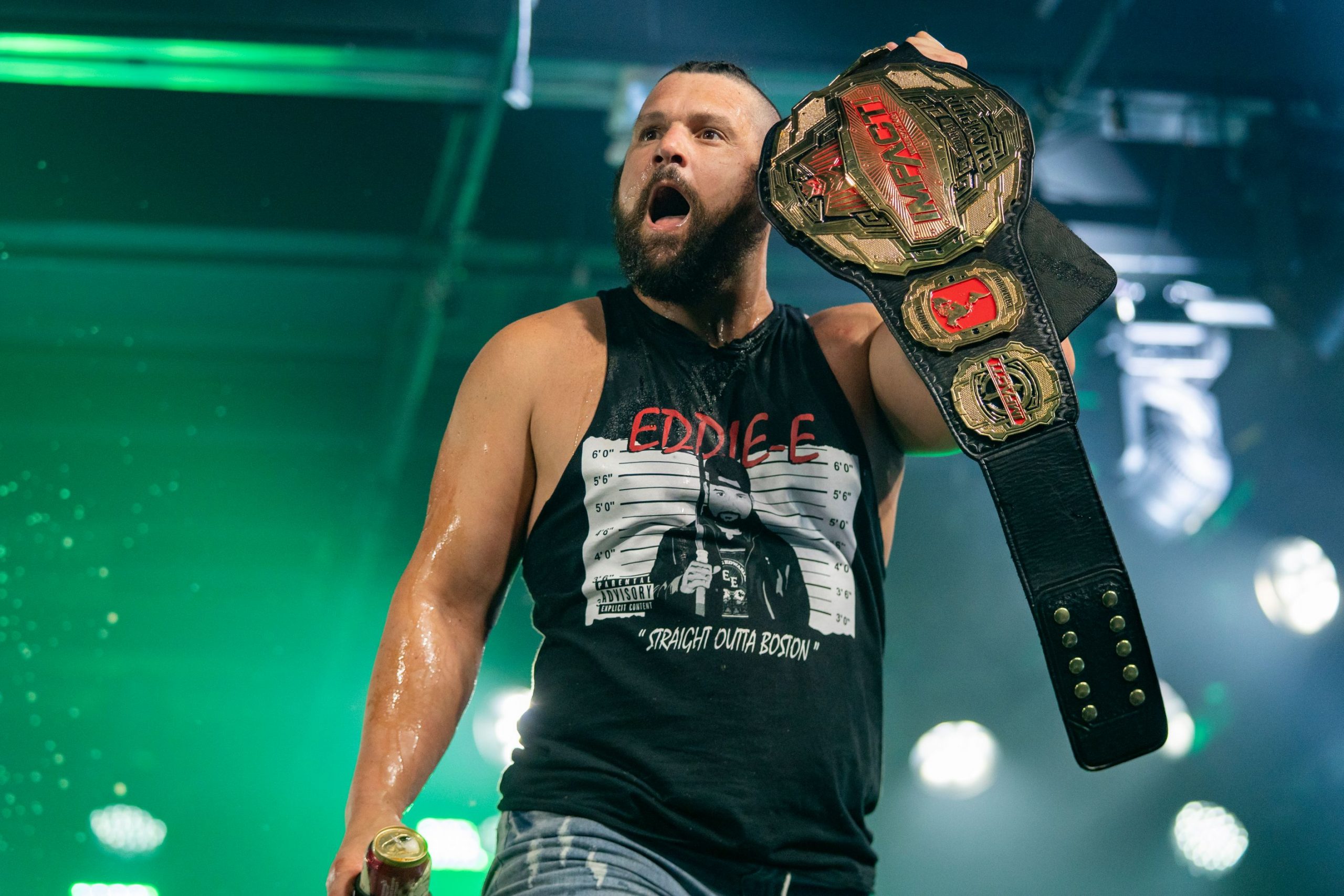 Craig: Okay, so what else has hampered you during what we are calling 'the pandemic era' in wrestling – what have you found the biggest challenges to be?
Eddie: You know, it's hard. Things have changed, you know, and we had to adjust for the pandemic and – I don't want to harp on about negative things – obviously it's just the whole thing in general where people weren't able to attend as fans, and then obviously some wrestlers had issues. There's also been covid tests and all this stuff that obviously played into it, and matches get changed and all that stuff. But my take away from it is for me personally – and hopefully I think fans and other people feel this way – there's so much chaos going on, so much outside in the world, but for those two hours on a Thursday night you can sit back and you can watch wrestling. You can watch Slammiversary, and you can forget everything that's going on.
It was a tough time for everybody. There's people losing jobs, people who needed to quit jobs because they need to stay home with their kids, and you know, it was a rough situation for everybody. So for me, it showed what pro wrestling can be, it can be positive, it doesn't have to be this negative thing with everybody arguing online about things that in the end don't matter. I think it showed us all what we what we've had all along. But it wasn't until the fans are taken away and it's been stripped down to its absolute lowest point that we knew. It's like, this is pro wrestling, this is what it's for. This is pro wrestling, and this is what it is for the fans. And that's my biggest take away.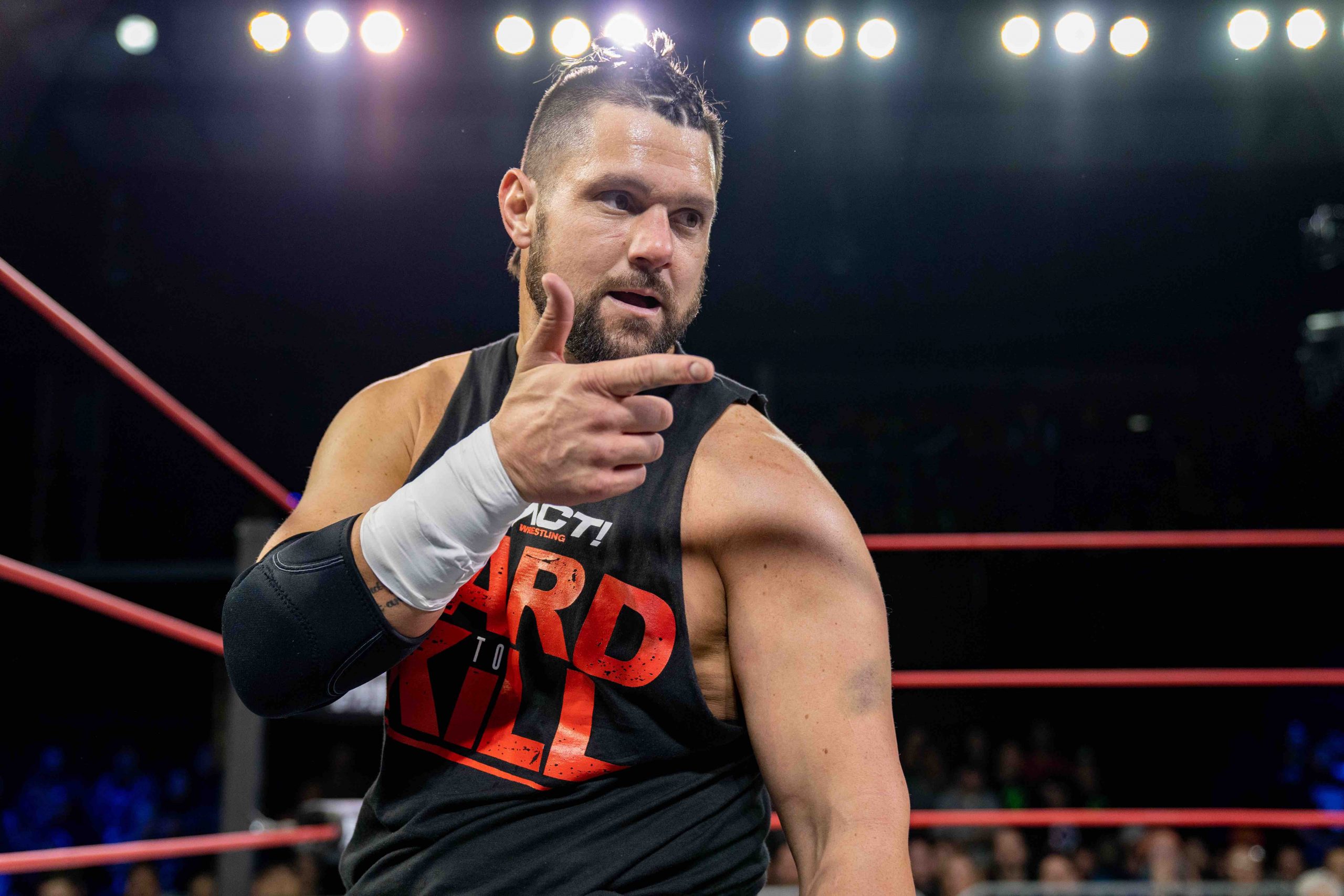 Craig: Do you think in an odd way, it's kind of galvanized the locker room, and it's kind of brought everybody together because, as you say, everything's being stripped down to the basics?
Eddie: Yeah, I mean, for sure it was all of us supporting each other. I didn't do the first set of taping during the pandemic. I chose not to for my family because, you know, I didn't know what was going on. Impact Wrestling has fully supported anybody from our locker room all along if we ever didn't feel comfortable, or we didn't want to travel, or whatever the case may be. And so, when we were there in the locker room and we know that we're all doing this for the love of wrestling – we're lucky to be able to do this for our dream. This is a dream job that we're doing, you know, so we're lucky that we're able to still work during this pandemic. So it was our job to come together.
Yeah, things are things are different out there, at the arena – it's different, it feels different, but we need to put all that out of our minds, forget about it all and go out there and deliver as if it's Slammiversary every Impact night, for every tv taping that we do. It's to go out there and leave it all out there as if it was the biggest show ever because there are people who aren't able to do what we're doing. We're able to work during the pandemic and we're able to go out there and live our dream and some people can't do that. So it's up to us to go out there and leave it in the ring and have the people who are watching be able to enjoy.
It definitely brought us all together because, you know, in a weird way, as much as it divided many people, it also brought a lot of people together. It forced us to be brought together and in the end, that's what we take away from this.
Craig: Last year at Slammiversary, it must have been a bizarre situation when you won the vacant Impact World Title. Where does that moment sit in your career accomplishments?
Eddie: It's honestly pretty high. I don't know about what number, but I'm gonna put a high because, as we're talking about the pandemic, and last year there was a lot of hype going into it. The Good Brothers appeared, and then there were mystery opponents. So, it's like we knew we had a lot of eyes on us. A lot of new eyes, a lot of old guys, a lot of people that haven't seen this for a while; people are tuning in to find out what's going to happen. And to be the champion during the pandemic, an odd time to be the champion, you know – people are tuning in maybe for the first time. It's like you're trying to try to carry the company the best we could during this hard time, and I was able to do that.
I was the guy that held that championship belt above my head and the Good Brothers came out and we 'cheers beers' . That moment itself is very special because obviously there's always a choice. There's a lot of people who could be champion and a lot of guys who deserve it! But for me to be on the pay per view with that belt, it was special because I feel like everything has happened for a reason. It's like I got to that point, and had gone through these ups and downs and chaos and in the end, I was able to show that not only do I want to be the guy in the forefront, the face of Impact Wrestling, but the company also felt that same way. And it really said a lot about Impact and it's a really special moment.
Craig: Obviously, you're going to want to have that title in front of the fans. Is that a goal you've got before the end of the year – to try and get back into the title picture?
Eddie: You know, that's obviously we all want to be the world champion. It can't happen all the time. You can't always be the champion and I enjoy doing whatever it is as a part of Impact, wrestling different guys and facing random people, whatever the matches are, I'm proud to do it. But in the end, especially after Slam last year where I had that moment, I do want that moment with the fans again. I want to be able to hold that belt and have the fans cheering, and I want to be able to have that special reaction where I get that 1-2-3 and you can feel that crowd. That's something that I, that we missed last year. I do want to get back into the picture sometime in the near future.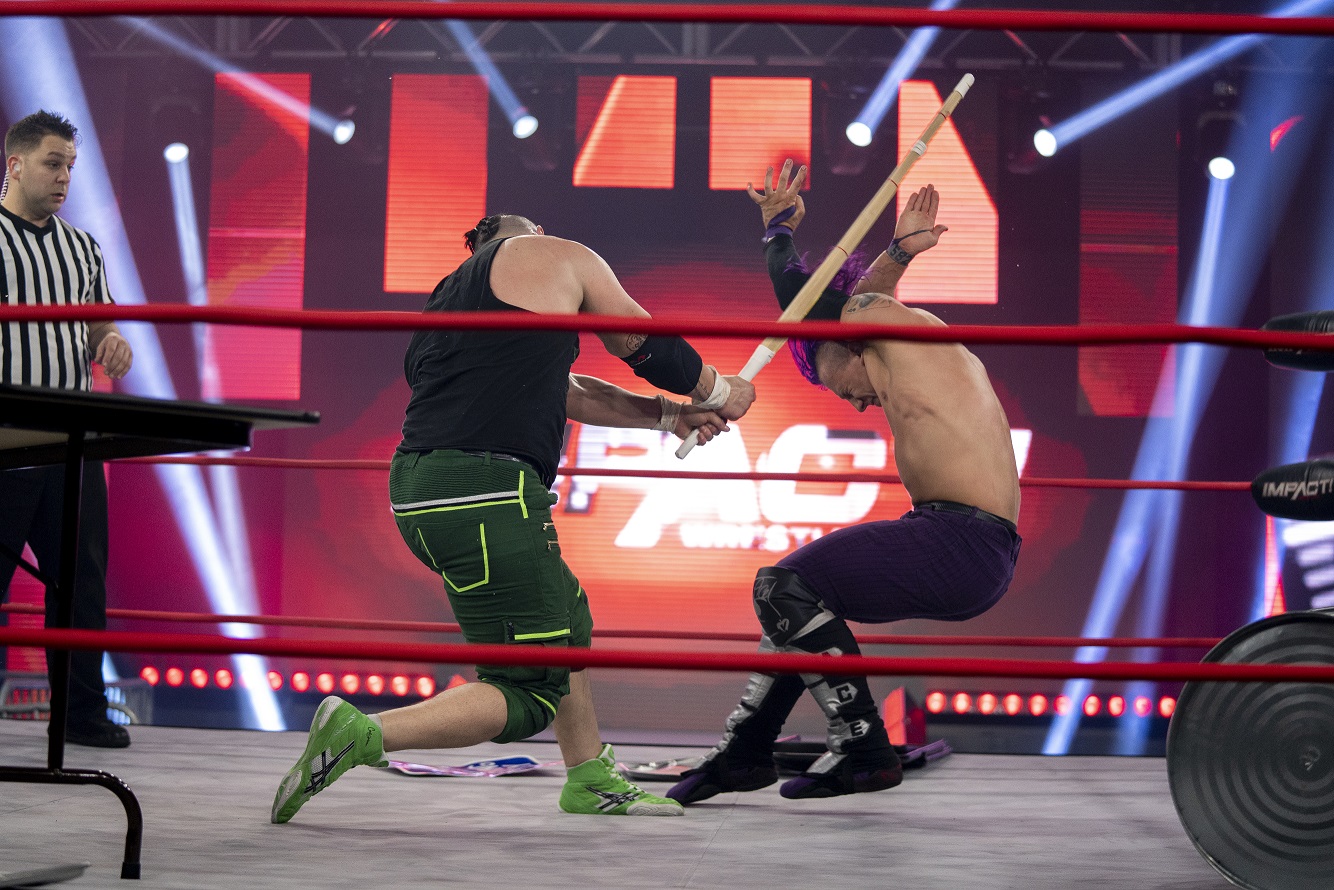 Craig: This year's Slammiversary main event sees Kenny Omega take on Sami Callihan. How do you feel the partnership with AEW has benefited Impact Wrestling, and what does Kenny Omega bring to the Impact product?
Eddie: I think there's this working relationship with another major company, which, you know, it's never really been seen before. This is a crazy time, but between Impact working with New Japan Pro Wrestling and Impact working with AEW, all it does is widen the opportunity of getting new fans and widening our fan base. Bringing in guys that have never been seen perhaps in America or in Impact Wrestling, and then having Kenny Omega as the Impact world champion, but he's on TNT on AEW – obviously that gets people to tune in to watch him on Impact Wrestling. So, as long as we get new people with new fans and we create this relationship together, it's a success.
I would have enjoyed more Impact players to go to AEW but it's not always the right time. I think that would have been good for our roster, you know, in general, but it doesn't always happen and I get it's not always the right time, but in the end, this will be a good thing for Impact Wrestling because we will get new fans from Kenny. You know, you can't deny that Kenny is a true champion; he goes out there and he delivers each and every time. He's had these matches, he puts it all out there and that's what Impact Wrestling is about.
It's ironic that I am rooting for, I'm pulling for my arch nemesis, Sami Callihan to be the one to bring the Impact championship home! I'd like to be the guy to do that, of course, but it's not my time, it's Sami's chance. And the one thing that me and Sami have seen eye-to-eye on throughout our careers, throughout everything we've done -you know, we've had our issues – but we both have the almost respect for each other because we are Impact Wrestling. We live and breathe it. We bled for it at Hard To Kill. We had a barbwire massacre for, we killed ourselves. We've done that because we believe it's not just for ourselves, it's for Impact Wrestling. We believe in the product, we believe in the company and we believe in every guy and girl in the back. We believe in what we're capable of. We're capable of so much more. And it's just a matter of time before the world sees it.
Craig: After the Barbed Wire Massacre with Sami at Hard to Kill in January, do you think that that feud with the two of you is finally over now?
Eddie: I say it was a good finale. Uh, I know that we will forever be linked and forever bonded and I'm okay with that. It's a rivalry that will go on forever. When Tommy Dreamer said he compares me and Sami to himself and Raven, it's first of all, you know, something of an honor to hear Tommy Dreamer say that to us. But also sometimes I feel it's true. We will forever be linked and down the road our paths are gonna cross again and we're gonna have to do something about it. So it's it's a finale for now, but it's not the end.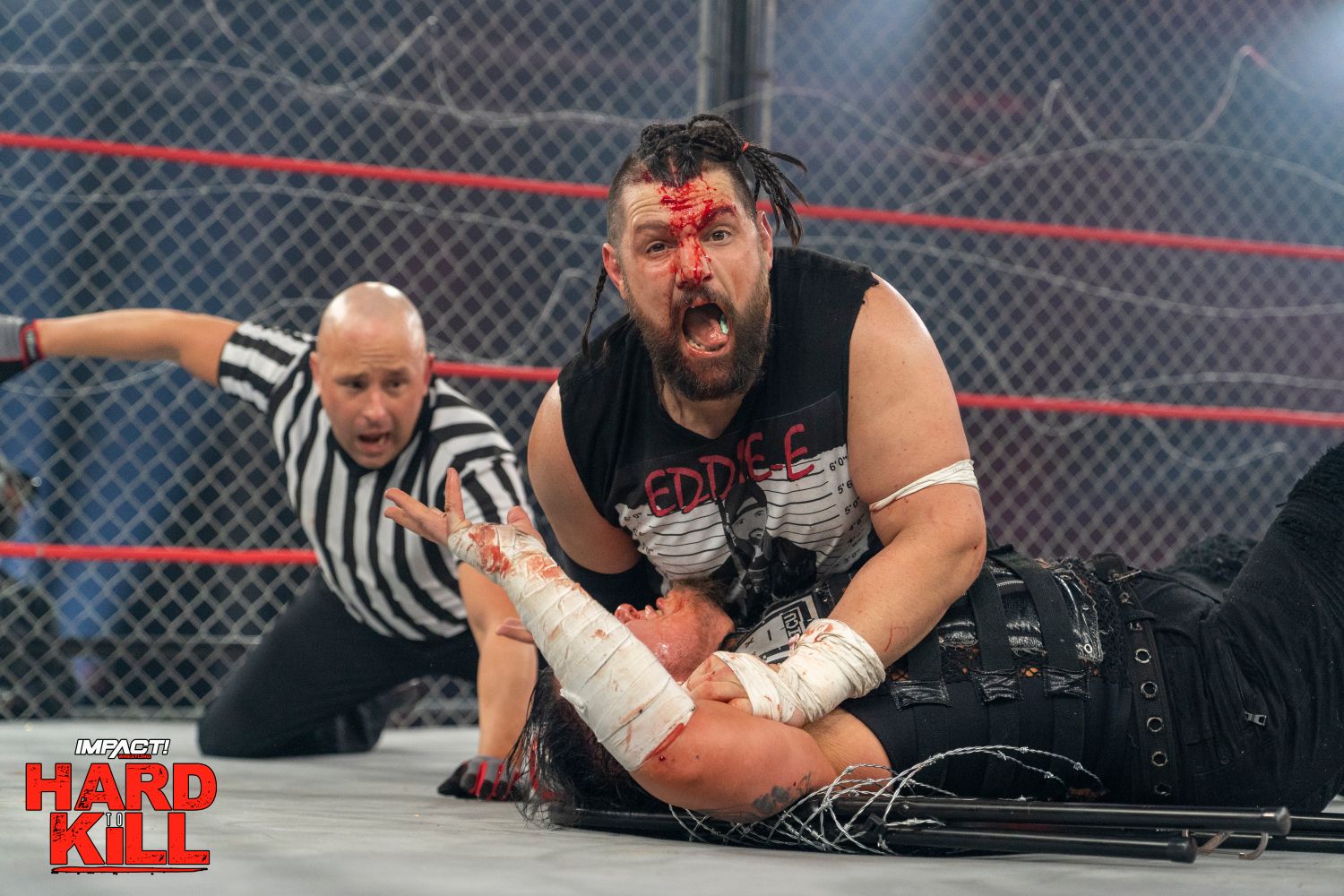 Craig: So, obviously you and Alisha are both working for Impact Wrestling at the moment, was that ever a goal the both of you had – to work for the same company at some point?
Eddie: You want to work for the same company. It kind of came about just through what I was doing in Impact where they knew Alicia had wrestled. Me and Davey, we did our split and Angelina got involved. So it was kind of meant to be at that point. And I mean obviously we wanted to work for the same company. It was just a matter of when or if, or how it would happen, and going into it you don't know how it's gonna go. You hope it's gonna work out for the best, but you know, try waking up at 4am going to airports and traveling together, working together, and having the matches together. You don't know how it's going to be when you're around each other that often, but honestly, for us it's worked out for the best.
From from day one, Alisha's first match was a mixed tag hardcore match at Slammiversary where we faced David and Angelina and she was thrown into the deep end. She absolutely delivered from day one, so I'm very proud to see how she's progressed and what she's progressed into at this time, and I enjoy working with her. I'm happy now that I don't have to be making little solo trips to the airport when it's still dark in the morning, you know what I mean? Like, I have my partner with me and you know, we don't forget how lucky we are to be able to do that.
Craig: Do you guys have a dream mixed tag match you would like to have one day?
Eddie: I don't know, if I have a dream one, but I would like to do another one sometime in the future and hopefully, you know, at a pay per view, at a big event, something where we can go out there and really go all out.
Craig: What about facing Johnny Gargano and Candice LaRae one day?
Eddie: I'm down with that, if they ever want to come over to Impact we will welcome anyone.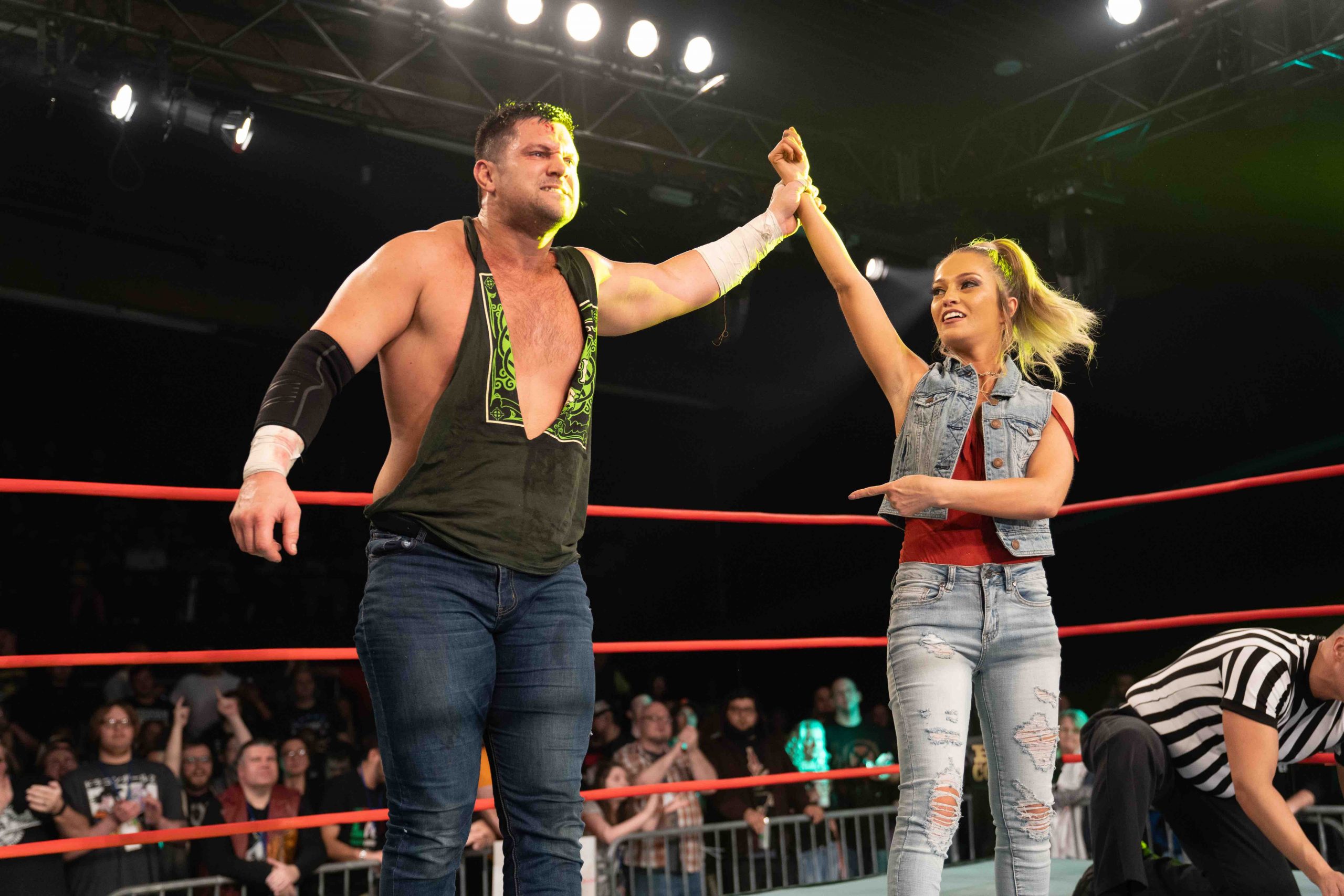 Craig: During the run up to Slammiversary last year, there was a lot of hype about free agents joining Impact, There seems to be the same rumours this year. Is there anyone who's a free agent that you want to see turning up at Slammiversary?
Eddie: I don't necessarily have, you know, a list of specific guys that I think should come to Impact. It's more so guys that I think haven't been given the best opportunity elsewhere, and I want to be the guy that said, hey, you know, Impact Wrestling, this is a place to be. There's a place for guys to come or girls to show up and prove themselves. You know, come here with a chip on your shoulder because you haven't been given opportunity elsewhere and Impact wrestling will give you that opportunity and you can go out there and deliver. I think that's what Impact Wrestling is about, and that's what we need. So anybody from any of the companies who wants to come here to show what they're capable of, come on over because this is this is the place to do that. So if you want to bet on yourself, come on over.
Craig: You touched on your rivalry with Davey Richards earlier, did you ever see yourself transitioning into your current singles run you are on at the moment, whilst you were doing the American Wolves together?
Eddie: Well, you know, I started training. I've been doing single stuff all before me and David. The good thing about me and Davey, even when we tagged, we still did single stuff because I think that's kind of what made us so strong as a team. We were both good on our own, but we're also great together, you know? So obviously it was something that I wanted to do at some point, um but it's never like I wanted to end the wolves forever.  That's not what happened either. Of course, I want to be a world champion, I want to see what I can do, and I've been able to go out there and do that. But, you know, the Wolves will never die either. So, who knows, down the road.
Craig: You can pick one person from any era of TNA/Impact as your dream Slammiversary opponent, who are you picking?
Eddie: Kurt Angle never got to do it. We had a six-man, that was it. I'd love to face Kurt. I think that's a match.
Craig: On a final note, you currently have a graphic novel out called 'American Wolf in London', how did that project come about?
Eddie: The artist Mark Bolton had reached out to me, he's a wrestling fan and he has done some amazing comic book work for DC and stuff like that. He approached me about doing it and at the time I had my young daughter and it was definitely something that I've always wanted to do outside of just wrestling, you know, to try to put some more good out there type thing, you know. Mark wanted to do the 'Anything's Possible' book, which is my first book that I did, the Children's book, and I was so happy with how it came out. The American Wolves were born in Wolverhampton, England, so I was like, you know, there's a lot of history there and obviously, 'American Wolf in London' is a pastime story so that was a great idea. We got to bring in Kenny, the kendo stick that was involved in my travels, so it was more of like a fun time, you know, as opposed to the first one which was more or less an autobiography. This one is more an adventure with Eddie.
You can purchase An American Wolf In London here:
We'd like to say a big thank you to Eddie Edwards for taking the time out to speak to us here at One Stop Wrestling.
You can follow Eddie on Twitter at: @TheEddieEdwards
Follow Impact Wrestling for upcoming information on Slammiversary here:
All photo credit goes to Impact Wrestling.
FOLLOW ME ON TWITTER @1Stop_Wrestling
Use promo code 'ONESTOP' to receive an extra FREE autograph in your first Wrestle Crate. Sign up for yours here.
Grab your very own 'One Stop Wrestling' t-shirt from ProWrestlingTees!
Order yours HERE